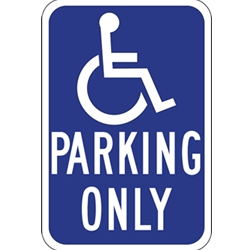 Show Your Compliance with CASP Inspection, CA Handicap Parking Signs
From sun and surf to congested freeways and smog, the state of California is known for many things, some good and bad. As the most populous state in the nation and growing, California could be its own country; 38 million people -- and about 3.5 million businesses -- call it home. California does things differently, and if you have offices in the Golden State, you need to get updated on the state's ADA policies.
Not Just Another California ADA Parking Sign
California is the most litigious state in the nation regarding ADA regulation. Failure to comply with ADA rulings – including posting the proper California handicap parking signs -- could cost your business or organization thousands of dollars in fines. ADA compliance issues and lawsuits have become such a concern, businesses can now get an official CASP inspection signage that says, "This facility has been inspected by a Certified Access Specialist."
As a result of so many frivolous lawsuits, the ADA Certified Access Specialist position has been created to protect business owners. This inspector assesses business facilities to make sure they meet all ADA compliance issues, including use of the correct California handicap parking signs. (The state has its own unique disabled parking signs.)
Avoid Lawsuits with the Correct CA Handicap Parking Sign
Most businesses want to meet ADA requirements and welcome people with disabilities. But with some taking advantage of the system, the CASP inspection sign is a good defensive measure.
When clearly posted, the CASP inspection sign lets everyone know that the building has been officially deemed free of any ADA violations including CA handicap parking sign ones. Moreover, if there are known compliance issues, the sign clearly states them to let concerned citizens know the issues are being addressed.
Order your CASP inspection sign today and schedule an appointment with the inspector. Don't make people wonder if you are in compliance. Along with standard California disabled parking signs, this sign announces to everyone that you are – without a doubt – in compliance with the law. Start the new year off right and schedule your appointment now.