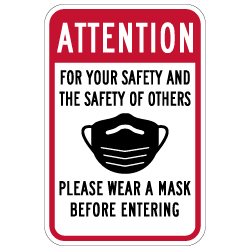 Use Our Signage To Remind Visitors To Please Wear A Mask Before Entering Into Your Facility
The 2020 Coronavirus (COVID-19) pandemic has affected the world in numerous ways and is continuing to spread nationwide. To help prevent the spread of COVID-19 the CDC has established new guidelines for us to follow and implement into our daily lives. Wearing a face mask or face covering in public spaces has become the biggest key to help fight the spread of the virus. It is absolutely important to have signage posted throughout your building or facility to remind customers and guest to keep their face masks on while they are inside your building or property. Without the use of our sign displays you run the risk of people entering into your facility not wearing a face mask or use of any personal protective equipment which can be hazardous to your employees and other customers. It can be exhausting trying to stay vigilant and enforce the current government mandates in regards to the current pandemic, so why not let our COVID-19 Public Health Safety Signs do the heavy lifting for you.
Using Social Distancing As A Means To Keep Your Employees And Customers Safe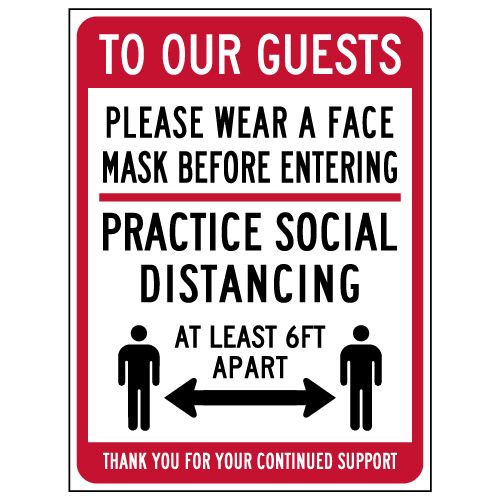 Social distancing has come to the forefront as a means to cautiously navigate public spaces to avoid causing the spread of Coronavirus any further. As the mandates for stay-at-home orders and lock-downs begin to end, businesses and public spaces are slowly opening back up to the public. It's important for business and property owners to remind visitors and customers to continue practicing proper social distancing guidelines in order to help prevent another wave of infections. Social distancing may be in place for the next couple of years; it is essential that business owners invest in a proper signage strategy now so they can adequately meet the demands of the CDC. Posting the proper sign displays around your property will ensure that anyone entering your office, facility or building space is following proper social distancing guidelines.
STOPSignsAndMore Offers Window Decals, Aluminum Signs, Floor Labels And Other Custom COVID-19 Safety Signs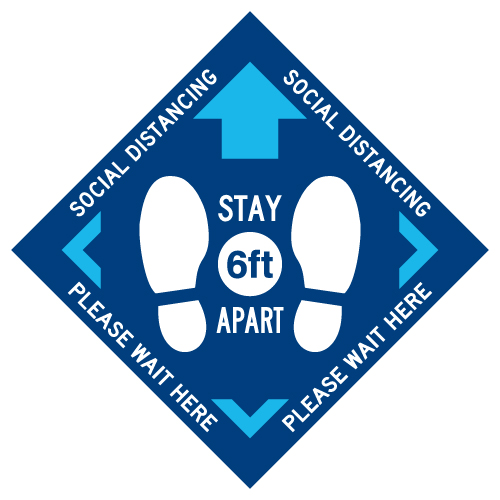 STOP Signs and More has in stock a variety of sign displays and warning decals that can be used to keep your business up to date with current pandemic regulations. Our most popular Safety Window Decals come with a variation of the message Do Not Enter If You Are Sick or Please Do Not Enter The Building If You Have Any Of The Below Symptoms with symbols of the most common symptoms of the Coronavirus. We also carry a selection of Floor Stickers which help to designate safe areas to practice social distancing while waiting in line to checkout. But our most high in demand product is our Aluminum Please Wear A Mask Before Entering Sign. Those sign displays work great to be posted outside the entrances of your building to help remind customers and guests to please wear a face covering prior to entering. Please browse through our COVID-19 Safety Signs category page to see our full selection of signs and and window labels. Can't find what you are looking for? STOPSignsAndMore also creates custom signage with your personnel message to be displayed that will work best for you and your business, contact us by calling (888) 931-1793 so we can get your order started today.