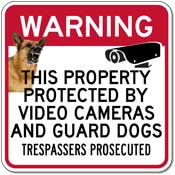 SKU: SEC-1192
Property Protected By Video Cameras and Guard Dogs - 18x18

E-mail this product to a friend
Quantity Discounts
2-4
$38.95 ea.
5-9
$36.95 ea.
10-14
$34.95 ea.
15-19
$33.95 ea.
20-39
$29.95 ea.
40-60
$24.95 ea.
Video Cameras and
Guard Dogs Sign
Property Protected By Video Cameras and Guard Dogs Trespassers Prosecuted Sign - 18x18 - Reflective Rust-Free Heavy Gauge Aluminum Security Signs
Video Surveillance Signs are constructed of rust-free, heavy gauge, durable aluminum
Video Surveillance Signs are made with 3M Engineer Grade Reflective sheeting and 3M inks
Video Surveillance Signs are rated by 3M for at least 7 years no-fade service
Video Surveillance Signs have holes drilled at top and bottom center for easy mounting
DOUBLE the working life of your Video Surveillance Signs by adding 3M Protective Overlay Film (POF)! 3M's high-tech POF protects sign faces against fading caused by the sun and harsh weather—and makes graffiti and sticker defacement damage easy to clear away without harsh abrasives.
"I received my signs a few days ago and wanted to let you know that I think they are very high quality - I was honestly expecting much thinner metal and was pleasantly surprised that they were so robust in construction. They are also very bright and super-visible. You are offering a great product at a great price - thank you. I will highly recommend your products." —Kevin, Whitethorn, CA (No Parking Signs, Handicap Parking Signs, No Parking Signs)
We Make Regulation Parking Signs, Video Scurity Signs, Custom Signs, and More
:
ADA Compliant Access Signs
,
No Parking Signs
,
Handicap Parking Signs
,
No Trespassing Signs
and
Video Security Signs,
Custom Signs
,
Bilingual Signs
,
Do Not Enter Signs
,
Parking Signs
,
No Smoking Signs
,
Entrance and Exit Signs.
Don't see the Property Management Signs that you need? Call us and we'll make them for you! 1-888-931-1793

E-mail this product to a friend