XL Surface Mount Flexible Sign Post and Base - 8ft or 9ft Size
Estimated Delivery Time: 3-6 Work Days
SHIPS FREE-UPS Ground
| Quantity | Per Item Discount |
| --- | --- |
| 2-4 | $15.00 |
| 5-9 | $20.00 |
| 10-15 | $30.00 |
XL Surface Mount Flexible Sign Post and Base - 8ft or 9ft size - For Concrete or Asphalt Surfaces

Manufactured by FlexPost®
XL Flexible Sign Post Includes Mounting Hardware for Either Concrete or Asphalt Surfaces. Adhesive Installation Option Available for Post Base as well. Also Included, Sign Brackets for Sign Mounting onto Post.

SPECIFICATIONS:
Extreme Heavy Duty Flexible Signpost with 8" x 8" Base & Spring Assembly
Rugged Galvanized Coated Steel Base with Hidden 5/16″ Thick Steel Spring
2 3/8" Diameter Galvanized Post - with .055" Wall
5/16" - 18 x 1/2" Set Screw
Overall Height: 8.5′ (102″) - 9′ (108″)
Mounting Hardware and Set of Double Sided Sign Brackets Included
Includes Steel Zinc Coated Anchors for Either Concrete, Asphalt or Natural Ground Surfaces
Sustains Impacts with 360° Range of Motion
Easily Accommodates Large Regulatory Signs

NOTE: Signs Not Included
GUIDES AND INSTRUCTIONS:
Click here to view a product assembly guide for the XL Surface Mount Flexible Sign Post

Click here to view ground installation instructions - Concrete
Click here to view ground installation instructions - Asphalt
Click here to view ground installation instructions - Adhesive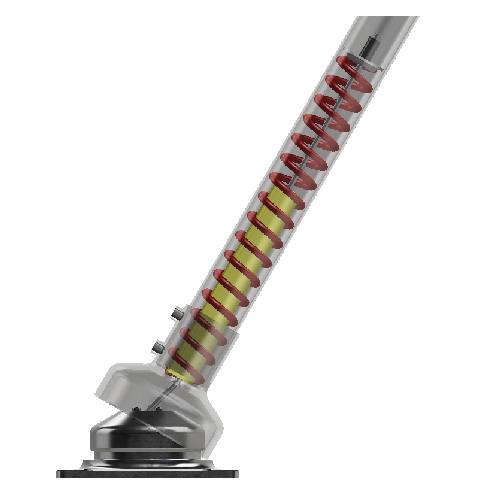 Among parking posts this XL surface-mount flexible sign post is one of the best available. Not only does it feature high-quality material and innovative design but it also solves a very expensive issue endemic to parking lots and structures everywhere.
In fact, every year over 20% of parking lot sign posts must be replaced due to damage from vehicles and other sources. However this XL flexible sign post reduces that problem significantly by eliminating damage to parking lot surfaces and protecting vehicles from unnecessary damage as well.
This XL flexible sign post is highly functional too. Not only can it handle any steel regulatory sign such as parking lot signs or other traffic signs, but it only takes minutes to install without any special tools required. Lastly, the XL flexible parking post featured here can be easily applied to a variety of surfaces including concrete and asphalt.
Customer Reviews





(0.00)

stars out of 5
(Only registered customers can rate)
Related Products
3 Total Related Products