ADA Luminous International Fire Code Stairwell Floor Level Sign - 12x18
For Pricing And Assistance In Ordering - Please Call (888) 931-1793 Or Email
These are made-to-order signs - Proofs will be emailed for your approval.
SHIPS FREE - UPS Ground
ADA Luminous International Fire Code Stairwell Floor Level Sign - 12x18
Luminescent (Glow In The Dark) International Fire Code Stair Signs with Tactile Text and Grade 2 Braille - 12x18
Our ADA Stairwell Signs Are 1/8" Thick Laserglow Material With Eased Corners.
Our ADA Stairwell Signs Have Tactile Text And Grade 2 Braille.
Our ADA Stairwell Signs Have 1/32" Raised Pictogram(s) And Text
Our ADA Stairwell Signs Include Double Stick Foam Mounting Tape
ADA luminous signs, also called ADA luminescent signs, or ADA photo-luminescent signs, are specially engineered signs with tactile text and images or symbols, and with Grade 2 Braille, that are made from a flexible plastic substrate that glows in total darkness after exposure to light. ADA compliant luminous signs are being used by more and more states and municipalities, and luminescent Braille signs are required by the New York Department of Buildings Local Law 26.
Complies with International Fire Code (IFC 1022.9)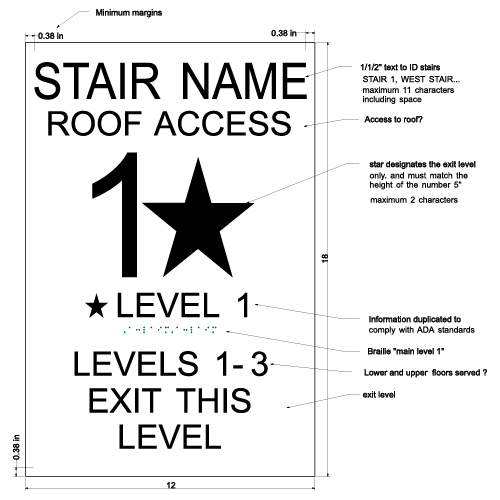 Unlike other signs sold online, our stair level and floor level signs meet ADA and Fire Code specifications. Please check with your ADA inspector to verify the signs you require. The layout represents updated specifications from March, 2012. Due to safety reasons, having the correct signs is very important. We recommend verifying with your fire inspector. Each interior floor landing requires a custom sign with the correct layout which includes specific letter heights and all information needed to identify floor levels and stairs. The Braille translation for the star (★) shall be "MAIN".
Here at StopSignsAndMore, we have been manufacturing stair level and floor level signs for many years for office buildings, universities and parking garages. We have the knowledge and experience to help you make the best choice to pass inspections and meet ADA or Fire Code guidelines. We make these tactile ADA Braille stair signs out of durable Romark acrylic and they are available in many colors and styles. They are also available in brushed aluminum and in LaserGlow® photoluminous materials required by more and more building codes.
Click here to view code details:
IFC 1022.9 & Title 24

Please consult your local Building Code/Fire Department for sign specifications.


ADA Compliant Access Sign Mounting Location and Height:
Where permanent identification signs are provided for rooms and spaces, signs shall be installed on the wall adjacent to the latch side of the door. Where there is no wall space on the latch side, including at double leaf doors, signs shall be placed on the nearest adjacent wall, preferably on the Right. Mounting height shall be 60 inches above the finish floor to the centerline of the sign. Mounting location shall be determined so that a person may approach within 3 inches of signage without encountering protruding objects or standing within the Swing of a door.
STOPSignsAndMore.com
Customer Reviews





(0.00)

stars out of 5
(Only registered customers can rate)
Combine Your Purchase With
5 Total Upsell Products