ADA Signs & Pads
Post ADA Signs to Fulfill the Needs of Your Disabled Visitors and Customers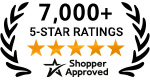 Back in 1990, The Americans with Disabilities Act regulations, or as you may know the ADA regulations, was first enacted to protect the rights of handicapped individuals. The regulations of this act state that public businesses and organizations need to provide easy, safe and clearly marked access to disabled individuals. It covers all types of disabilities from vision impairment to those who need to traverse with the help of a cane or wheelchair. Most people, whether they are property owners or not, understand how important it is to post Handicap Accessible Signage, ISA Labels, Signboards with Grade 2 Braille, and other ADA Displays with the Handicap Symbol and Tactile Text in and on any type of buildings that are open to the public.
Read More
ADA Signage Makes Disabled Visitors and Customers Feel Comfortable Navigating Your Building
When navigating around the sections of your building or property, those with special needs can find it to be very frustrating and stressful when there isn't sufficient signage posted to help direct them to their intended destinations. The first advantage of posting ISA Displays, Handicap Accessible Signage and ADA Braille with Tactile Text signs in strategic locations around your building is that you help those with disabilities feel welcome and comfortable as they navigate your building. They will understand exactly where to go to find what they need or to fulfil the reason for their visit. These signboards will help them find the best path of travel to locate stairwells, restrooms, rest areas or other places of access with ease.
Display the Right ADA Signage, ISA Labels and other Handicap Symbol Displays to Bring Your Building Into Compliance With the Americans With Disabilities Act Regulations
Along with encouraging visits from handicapped individuals, your business will be in compliance by posting the appropriate ADA displays in and on the necessary areas your building, which will prevent legal issues with the local, state and/or federal authorities. On top of these authorities, you need to remember that disabled people also can file lawsuits if you fail to post the correct signage. Lawsuits and other legal issues over the lack of appropriate ISA Displays can be both expensive and time consuming. Prevent all issues and save money by posting all necessary disabled message displays in your building.
Purchase Bulk Quantities of Handicap Accessible, ISA, Braille and Tactile Text Signs
On top of posting the correct signage, you need to update your tactile and Braille signs anytime there are changes to the regulations, such as the ones that occurred in 2010. Part of these changes stated that the Grade 2 Braille should be rounded instead of the flat style it once was to guarantee that all visually impaired people can read it easily. Also, some states, such as California, have different regulations on placement of any type of ADA signage. Work with an advisor in your area if you are in doubt about what the Americans With Disabilities Act Regulations are for your building.
STOPSignsAndMore.com removes most of the confusion about this type of signage since we always manufacture all of our products with or without tactile text and braille in accordance with the most current ADA regulations to help our clients comply with all of them in their area of the country. Our company also offers a wide assortment of assistive signs besides the ones that are necessary for compliance with the Americans with Disabilities Act Regulations. Examples of these signboards include ones that say either 'RING THE BELL FOR ASSISTANCE' or 'OUR STAFF IS HAPPY TO BE OF ASSISTANCE' and both will also contain a a symbol or pictograph of a wheelchair with a person sitting in it. Even though you are not legally required to display this type of signs, your handicapped visitors and customers will appreciate the fact that you wish to help them in this manner. Browse through our following section to learn further details about the ADA signage that we can provide to you to meet your specific needs. Remember that we also will customize your signs to show your unique brand, message or other elements.