Parking Signs
Display Various Parking Signs to Regulate Your Lot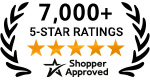 You may wonder why you should display parking signs to regulate the flow of traffic in, through and out of your lot. For one thing, when you post signs such as these, you show the drivers the correct entrance and exit routes for the parking lot. Another reason to post this type of signs is to point out the 'NO PARKING' areas or spaces along with towing warnings to those who ignore the rules. On top of all of this, parking signage also can display messages such as 'PARK AT YOUR OWN RISK' along with 'MANAGEMENT IS NOT RESPONSIBLE' anytime the location calls for this type of signs. An additional choice for a type of sign that is useful in a parking lot is the 'HANDICAP PARKING' signs to reserve specific spaces for use by those who suffer from disabilities. Signage for customer parking can be for non-traffic purposes to warn drivers of certain restrictions.
Read More
1. Reserved Parking Signage
In certain cases, you might need to display 'RESERVED PARKING' signage to save specific spaces for unique purposes. At times, businesses reserve a space for their employee of month to honor his or her accomplishments. Other times, schools, organizations, businesses and medical facilities will save spaces for specific staff members through posting this type of signage. Even churches and synagogues utilize these signs to reserve a parking space for the priest, minister or rabbi.
2. Disabled Parking Signs Reserve Spaces for Handicapped Drivers or Passengers
Owners of buildings that are open to the public who wish to comply with ADA specifications post 'HANDICAP PARKING' signs to save certain spaces for drivers or passengers with disabilities. If your lot is not adhering to these specifications, you need to install these signs to come into compliance. The authorities also require drivers to display handicap permits in or on their cars to utilize these spaces in a legal manner. Most of the drivers respect handicap parking since it is easy to spot with the wheelchair image on it along with the sign. In addition, they understand that the people who use these handicap spaces deal with difficult challenges each day. Of course, there are always those drivers who will not obey the handicap signs and park in the disabled spaces in spite of the signs.
3. Restrict Parking by Posting 'NO PARKING' Signage
Schools, companies, organizations and other public properties need to prohibit parking in specific spaces or areas for one reason or another on a routine basis by posting specially designed 'NO PARKING' signs just for this purpose. Examples of these areas or spaces include the entryways, delivery zones and emergency lanes. Other more complex reasons exist to restrict drivers from parking in a certain area, but regardless of the reason, the drivers should adhere to the instructions on the signs.
We Manufacture All of Our Parking Signs With Quality Materials
Our signage offerings are durable since we manufacture them with heavy-gauge, rust-free aluminum. On top of this, all of our handicap and customer parking signs contain 3M fade-proof inks and reflective sheeting. As a result of these inclusions, our signage offerings last for a minimum of seven years without fading. Also, you can request the addition of the Protective Overly Film by 3M on each sign that you order from us. By doing so, you extend the lifespan of our signs up to a possible 14 years since it offers additional protection against weather exposure, and makes it easier to remove vandalism and graffiti without abrasive pads or chemicals.
When you post customer and handicap parking signs along with other types of signs for your parking lot, you can manage and direct traffic in your private, business or other type of public lot in such a way that allows safe, reliable access to all. Remember that the higher quality this type of signage is, the more readable and visible it will be to all the drivers who enter your property. Among our signs, you will discover ones for 'HANDICAP PARKING', 'RESERVED PARKING' along with directional signs to inform the drivers of the appropriate routes in, through and out of the lot. Bring your lot under control today with our signs. Our company guarantees complete satisfaction.