Other Products
We Got You Covered For All Your Purchasing Needs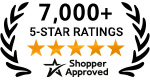 Looking for something outside of our regular ADA Braille Signs, Property Sign Displays and Traffic Signage? With our huge listing of merchandise, STOP Signs and More offers other products that complement our main product lines. Check out our selection below if you're looking to replace any truncated dome pads for your property or if you are in need of some smog station banners for your auto repair shop. We also offer safety vests for school crossing guards and traffic cones to help guide and direct drivers for after school pick up. Those are just a few examples of the other products that we carry for fast shipping. Get some great deals and browse through our various listings below of ADA Pads, Parking Lot Paint Stencils, Safety Reflective Vests, Traffic Cones, Aluminum Sign Blanks, Gift and Novelty Signs, and Banners.
Read More
ADA Truncated Dome Pads
ADA Truncated Dome Pads are ubiquitous in all shopping centers, city intersections, outside of corporate offices and in the entrances and exits of public buildings. Depending if you are planning to install onto wet or already existing concrete, we here at STOPSignsAndMore sell both cast-in-place and surface applied ADA compliant dome pads. These Truncated Dome Pads are required under Americans with Disabilities Act when there is a pedestrian travel path that crosses over vehicular traffic. Typical installations include (but not limited to) footpaths, stairways, hazardous areas, and walking surfaces not separated by curbs, railings, or other elements between the pedestrian areas and vehicular areas.
Parking Lot Paint Stencils
Make your parking lot Compliant and up to code with our various stencils. We have available Fire Lane No Parking Stencils and No Parking Stencils in various sizes that can be used for your private property or store parking lot. We also carry the ADA compliant Handicap symbol that you can use to indicate handicap parking for your parking stalls. Our ISA Wheelchair Symbol Pavement Stencil's dimensions are 45" square so that it can be easily visible to any motorist. The ISA Symbol itself is 36" tall and complies with local and federal specifications for ISA parking lot pavement stencils. We also offer official Pavement Striping Spray Paint in either the white or blue color to be used for any of our stencils.
Traffic Cones And Reflective Safety Vests
Our Reflective Safety Vests are perfect to pair with our crossing guard signs and parking lot traffic cones. Traffic cones are a great product to help guide vehicular traffic or to cordon off areas of your parking lot. We offer a crossing guard kit with paddle sign, cones, and vest as well. Mostly used in low traffic areas by off road maintenance workers and parking lot attendants, our Safety Vests are a great way to ensure the safety of your workers and to make drivers aware of pedestrians around the area. Our Traffic cones have various uses and are not only restricted to road use. You can use our reflective traffic cones to mark sports fields, ward off pedestrians from restricted areas, or mark private driveways from public use. STOP Signs and More offers 12" and 18" Traffic Cones. For nighttime visibility our 18" Traffic Cones can be shipped with a 6" 3M High Intensity Prismatic collar.
Aluminum Sign Blanks
Looking to purchase high quality Aluminum sign blanks in various sizes? Look no further, STOP Signs and More has got you covered. We have Aluminum sign blanks ranging in various sizes and are also available to purchase in different shapes as well. When purchasing aluminum sign blanks, it is important to take into consideration the type of alloy being used. Some companies feature the thickness of their aluminum as a premium selling point, but without proper temperament the strength of the product may be compromised. You can be confident that the aluminum sign blanks featured on our site are some of the most durable alloy materials on the market.
Smog Check and Customized Advertising Banners
The law requires that auto repair shops and stations for smog checks post Smog Station Banners and signs to prove their legitimacy with the Bureau of Automotive Repair. Repair shops can not only perform the standard smog checks on vehicles, but they also can perform the stricter checks that are included in the STAR Certified program. Along with these banners we also offer customized advertising banners which can help attract the eye of motorists looking to have a smog inspection for their vehicle. Using our high quality banners is a great way to bring in new customers and grow your business! All of our custom and smog station banners are made of rugged 13-ounce outdoor-rated banner material with generous 1-inch folded-edges for extra strength. Choose any custom size banner and get started today.
Gift and Novelty Signs
Everyone likes a novelty sign for their home or office. STOP Signs and More offers a variety of gag signs like our Emergency Zombie Defense Station Sign, Unicorn Crossing Sign, or our Caution Adults At Play with Martini Symbol Sign. Don't see the perfect gift or novelty sign in our online store? Don't worry, STOP Signs and More can create any custom sign perfect for any occasion. Browse our fun selection of gift and novelty signs and get that special someone a unique gift they'll never forget.