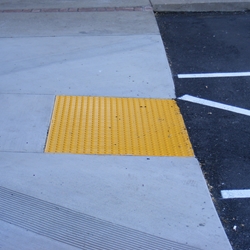 Sometimes government regulations and the larger small business community don't see eye-to-eye on issues, and this is especially true with it comes to new policies and enforcements with the American with Disabilities Act. Though the vast majority of small business owners support the spirit of the law, providing fair access to people with disabilities, some laws and regulations have complicated nuances that challenge easy compliance.
ADA Compliant Pads Can Be a Source of Contention
The use of ADA dome pads is one such legal requirement that has caused some tension among those in small businesses and even from those supported by ADA laws. The ADA Truncated Dome Pads or simply ADA Pads are required to be installed onto ramps or sidewalk areas where the pedestrian pathway and parking lot meet. According to the United States Access Board, ADA compliant pads are easily detectable by your feet when you are walking over them. The purpose is to signal in a tactile way to a blind or visually impaired person, "Hey you are about to walk into a space where there may be moving vehicles."
While this intention is benign, the reality is that a number of problems have been reported with such an ADA pad. Two types of ADA compliant pads exist: cast pads and retrofit ones. The cast in place ADA pads must be done at the time of building construction as they are set in place when the concrete is poured. The remaining type of pads must be fitted to an existing walkway. Sometimes, the ADA pad is made of inferior materials and therefore does not fit properly. This produces a raised surface that has become a tripping hazard causing a whole other set of problems.
Buy Top Quality ADA Dome Pads for Secure Fit
So what's a small business owner to do? It is better to be in compliance with the law than to risk in compliance and the hefty fines. In California for instance, failure to comply with proper use of ADA compliant pad among other guidelines can result in a $4000 fine per occurrence (not including the cost of attorney fees). To minimize costs to businesses, a number of companies like StopSignsAndMore.com are now selling these ADA dome pads without bulk order requirements so you can just order one (for about $100) for your business. New technologies and advances in materials and adhesives have improved the quality of the mats themselves so business owners can be sure they are installing a product that does not cause tripping.