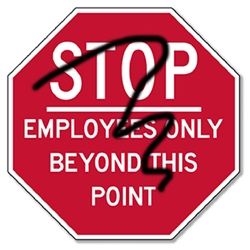 The POF is a durable, solvent resistant transparent film designed as a protective overlay for reflective and non reflective vinyl sheeting. When applied as a protective overlay on signs, the signs will have similar day-night appearance. The POF will not decrease the effective performance of the sign.
Cleaning Graffiti
When the POF is defaced there are cleaning options. In some instances, a detergent washing is sufficient to remove surface contamination. When marked with paints, coatings and other graffiti the overlay should be cleaned with the recommended cleaning system. IMPORTANT NOTE: Before using any cleaning materials be certain that you read and follow label direction as well as Health & Safety information produced by the manufacturer about the cleaning material. Avoid the use of formulations containing strong polar solvents such as Ketones (acetone, methylethyl ketone) or methylene chloride (dichloromethane) and other chlorinated solvents as these may harm the overlay film after repeated or prolonged exposure. There are many commercially available cleaners available. The best course of actions would be to try a cleaner with the least amount of solvents. There are many citrus based products that can be used to remove most graffiti off the sign.
Stickers Removal
Stickers made with paper or plastic can be a bit more challenging to remove. For paper stickers try apply the cleaning solution directly on sticker. For plastic stickers, remove the top plastic layer from sticker before applying the cleaner.

Finally, a final rinse with clean water is essential. If your sign will be in an area exposed to graffiti or tagging, we recommend purchase the optional protective overlay film for your sign.